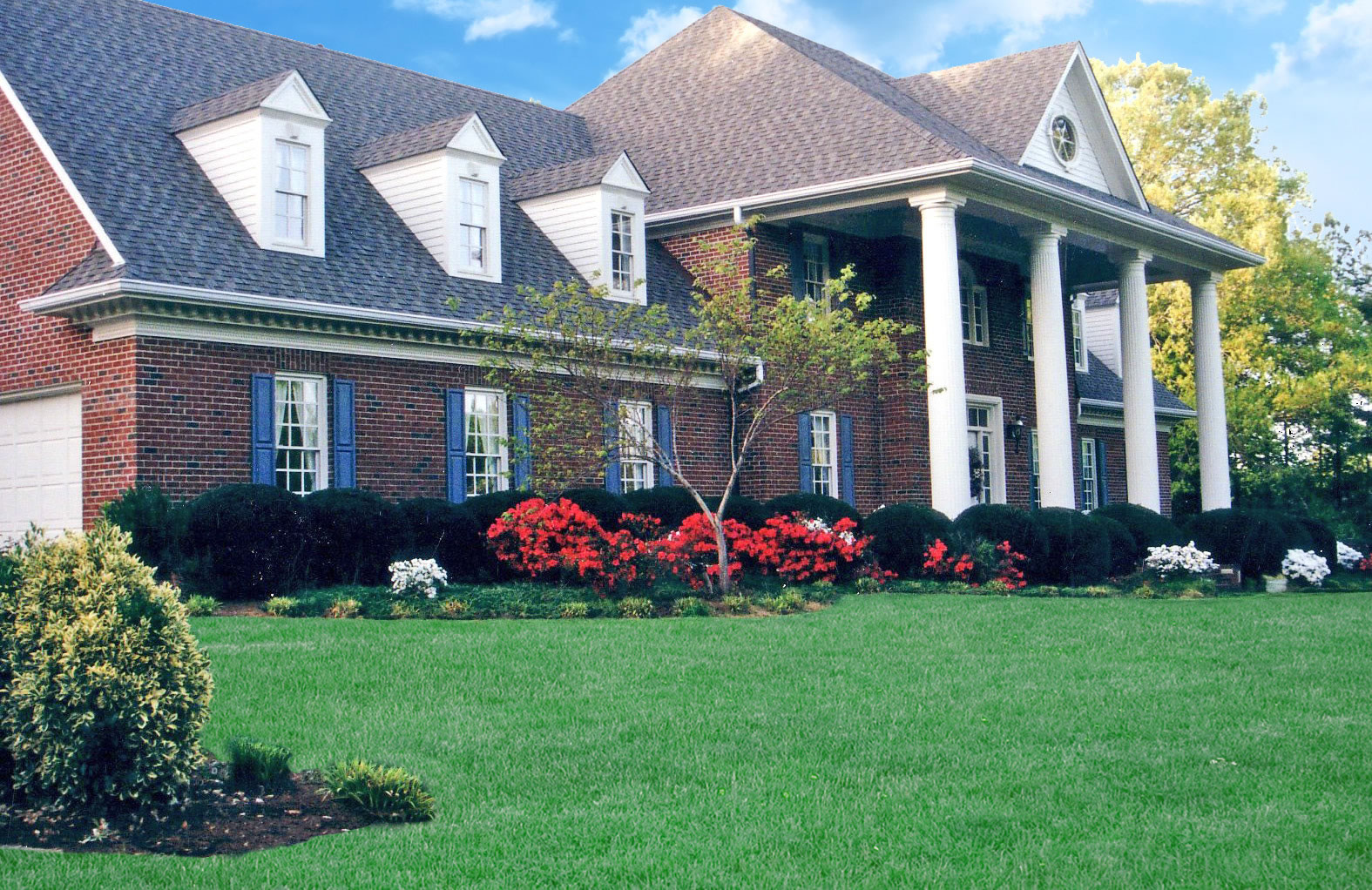 Our lawn care program is designed to improve and maintain the color, density and health of your lawn. We view our relationship with the customer as a partnership. In order for any of our programs to be successful, we are dependent upon your full cooperation with several maintenance practices such as proper mowing , watering and monitoring. With proper implementation of these practices , our seasonal lawn information fact sheets and professional staff. We will make your lawn a show piece for your neighbors to envy. Our knowledgeable staff is always available for a phone consultation, or visit to your property. "Customer Satisfaction Is Job One"
Six Month Lawn Care Program
This program consists of six applications, applied throughout the year to supply your lawn with all of its essential nutrients (Nitrogen, Phosphorus, Potassium). We provide applications against diseases and insects if needed ; treat for broadleaf weeds and unwanted grasses.
February- A fertilizer to replenish depleted nutrients used throughout the Winter. Pre-emergent weed and crabgrass control
April- A fertilizer to rebuild reserves , color and density. Treat emerging weeds and apply a second treatment of crabgrass control
May- A extended release fertilizer, to regulate growth, and color. Treat for broadleaf weeds.
July- Apply micro-nutrients to increase color without growth. Treat for broadleaf weeds.
September- A fertilizer blended to build a strong root system.
November- Spray any broadleaf weeds and fertilize with a slow– release winterizer for extended green time throughout the Winter.
Additional Services
PH Balancing : Soil acidity controls the availability of nutrients to be absorbed into the roots. We test your soil twice a year for pH levels free of charge. Based on these results, we can recommend the amount of lime that is needed for your lawn.
Disease Control: Diseases can be devastating to a lawn. Correct mowing, watering and monitoring is vital. If needed fungicide treatments are available as needed.
Core Aeration: Compacted soil and heavy thatch tend to suffocate lawns by preventing water, air and nutrients from reaching the roots. We offer aeration services both Spring and Fall. Usually accompanied
by this, we overseed lawns with a good quality seed to improve density.
Insect/Grub Control: Insects can be devastating to a lawn. By monitoring your lawn
regularly we can catch these pests and treat for them as needed.
Fertilization – We apply fertilizer, specifically formulated for your lawn at the correct time of year.
Pre-Emergent – Some lawns have numerous weeds and need weed control before the weeds start growing.
Weed Control – We control weeds throughout the entire season. Thus, protecting your lawn from weed invasions.
Unwanted Grasses – Crabgrass and Bermuda is a big problem in the Triad area. With ongoing treatments we can prevent these from creeping into the lawn.
WHAT OTHERS ARE SAYING ABOUT US:
"Jim and the folks at Grounds Scapes did  a  GREAT job on completing our patio area with pavers.  The job is beautiful and has held up very well for many years." John H – Oak Ridge
" … best landscaping company I've ever worked with." Mark S – Greensboro
"Your company went all out to make a difficult project easy and enjoyable" Robin M – Greensboro
"My yard looks GREAT!" Rob M – High Point
"It was a pleasure working with Grounds Scapes" Sam L – Burlington